Missionary Spotlight: The Dunlops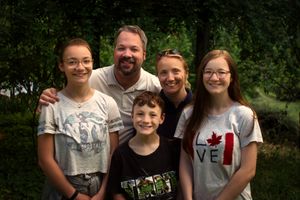 Missionary Spotlight: The Dunlops
Recently, we sat down with the Dunlops to hear about the meaningful work they do in South Africa. Read more about their story here.
One of the ways TWR Canada speaks hope to the world is through missionaries. Through supporters like you who pray and assist financially, God equips our missionaries to reach the world for Christ using media, technology and training. Recently, we had the opportunity to hear from Nathan and Megan Dunlop in South Africa about how God has been using them and their family. We are excited to cast a spotlight on the ways this family has been bringing people to Christ and strengthening their relationships with the Lord! Earlier this year, Nathan and Megan made the decision to remain in South Africa, rather than return to Canada.

While TWR Canada was looking forward to having the Dunlops back in Canada to serve in our London office, we are pleased to see how God has been leading and directing each family member as they perform important roles in Africa. This shows that while we make plans and have our hearts set on our self-curated details, God has a greater picture and a more rewarding agenda for each one of us. While the Dunlops grappled with feeling conflicted and hesitant to move forward with returning to Canada, God was carving his path and instilling lessons for the family to learn and using supporters to aid the Dunlops in their decision. The Dunlops mentioned how much they relied on prayer and Christian counsel during this time of uncertainty. God used this time to grow the Dunlops in their faith, ministry and connection to their supporters, both in Canada and in Africa.

For 10 months, the Dunlops tried to finalize their time in Africa, but every time they went to pack uneasy feelings arose. Their children, Ashlyn, Lindsay and Corwyn, have become very integrated within their church, from youth group leader (Ashlyn), outreach ministry camp leader (Lindsay) and Bible camp activities (Corwyn), to forming a worship band and serving coffee after church services. Unbeknownst to Nathan and Megan, camp children were praying that the Dunlops would stay in Africa, as Corwyn's presence was so well-loved throughout Adventure Bible Camp, and he was sad to be leaving on the day the camp was planned to commence. One girl prayed with her family every night at devotions that the Dunlops would stay. How wonderful are the prayers of young children and even greater the ways that God answered them!

Now, Nathan serves on the global marketing and communications (Marcom) video team, where he assists the global Marcom office with audio and video work, as well as content creation. In September, he performed sound work for the European Partner Conference, which was his first traveling experience, other than home for furlough, in the last 8 years! Currently, he is working on a segment for an internal video update and on new languages for TWR Motion content. He continues to assist with video work for his church, as well as helping with online meetings and studio support in the office. Nathan is excited about projects that grow his skills and aid in the glorification of God, meeting needs to grow God's Kingdom through digital media.

Megan started a new position in the summer assisting with member care as the social and relational facilitator. Her role has her looking into ways to restore the wellness of staff and improve the culture of the office through team building, prayer walks, staff lunches, and working with TWR third culture children. She started a bulletin board that acknowledges and celebrates accomplishments and has noticed there is reciprocal excitement that builds from each other and fuels one another, which has collaboratively created new initiatives, like wearing TWR-branded clothing on Fridays. Her experience homeschooling her children has her well-equipped to tend to so many needs from children to staff members.

As the Dunlops rely so much on assistance from supporters to do the work they're doing, would you consider supporting the family to directly help meet the needs of children and adults in Africa and beyond? Please pray for the family as they move forward in God's will in their church activities, content creation and strategic caring. Thank you for joining us to learn more about and pray for the Dunlops!