God's Goodness Prevails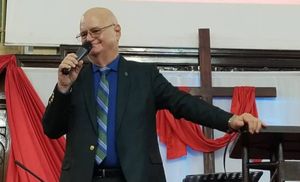 God's Goodness Prevails
Learn more about how our Cuba ministry is using new ways to spread the gospel in the face of unique challenges.
The urgency to spread the hope of the gospel throughout Cuba has intensified as the country continues to experience economic and political turmoil without respite. Lack of fuel, periods of blackouts, scarcity of food and medicine, and rising prices due to inflation have left Cubans discouraged. Further, Alberto, the RTM Cuba director, shared in his most recent report that he and his team were sick with COVID-19 earlier this year and that he had a difficult recovery due to complications.
Yet amidst all of this, we see that God's goodness prevails. We thank God that he granted full recovery to Alberto and his team. While they were battling sickness and unable to record new programs, they continued to post articles and previously recorded programs of Our Home and Messages of Faith and Hope on their website and social media pages. Alberto reports that from March to July 2022, their website had 2,226 visitors and 486 downloads of the programs for personal use and use in house churches.
The RTM Cuba Facebook page and Alberto's personal Facebook page both have thousands of followers. Posts on these pages receive excellent engagement and are shared regularly. Although the team was not able to record new programs for a while, God continues to work through their existing content as seen through listener and reader responses on their social media pages:
"Wonderful, uplifting message, Pastor. God continues to shine his light as always."
"Great message as always. Thank you for sharing. We are always built up by his Word."
"It is true that we often ask when we will see the light at the end of the road in these difficult times. Very good message. Let us trust in our Lord Jesus Christ and he will show us the light that we need."
"Very nice message that is needed in these difficult times. We must open our hearts to carry the Word of God as faithfully and truly as Christ did and fully understand that God is extensive in his forgiveness. We must not be too narrowminded, for, with God, nothing is impossible. God bless you, and may he continue to use you for his work here on earth."
Alberto reports that from March to July 2022, RTM Cuba only received eight letters from listeners requesting literature, whereas before the pandemic, they were receiving more than 200 monthly letters. The Cuban Postal Service has been nearly nonexistent since the start of the pandemic. As such, RTM Cuba is unable to confirm whether the literature they send by mail is received. We are encouraged, however, to hear that Alberto is working around this issue: "Now we are digitally sending the books we write and publish to the listeners that request it by email. We are already sending literature to 82 listeners by email."
Since April 2022, RTM Cuba has received over 100 telephone calls from listeners, including from prisoners of several jails across the country. Prisoners are asking for prayer and requesting that literature be given to their relatives who can bring it to them in prison. Alberto says they have delivered biblical resources to the leaders of prison ministries in Cuba to streamline the process of getting literature into the hands of those who desire it.
Another way that the RTM Cuba team continues to reach people is by sharing their programs and publications in more than 30 different WhatsApp groups for Cuban churches. We thank God for providing Alberto with strength and new ways to spread the hope of the gospel even when he continues to face barriers and setbacks.
Although the external challenges affecting RTM Cuba have not diminished, we can see that God's goodness prevails. The new ways of sharing content and the responses from listeners and readers show how God continues to be good in the face of hardship and strife. It is a comfort to know the words of Nahum 1:7 during these times, "The Lord is good, a stronghold in the day of trouble; he knows those who take refuge in him" (ESV).
RTM Cuba has requested prayer in a few specific areas. Would you join us in praying for the following?
The economic situation of Cuba is worsening. Pray that God would divinely intercede and provoke the necessary changes in the country.
Long periods of blackouts are preventing listeners from hearing RTM Cuba's programming. Please pray that the government will find timely solutions to the electricity generation crisis.
Please pray over the political situation in the country. Many young, trained, and educated people are emigrating. Pray that God would raise up strong and mature Christian leaders who will stay and faithfully preach God's Word to the people of Cuba.
Join us in praising God that his goodness continues to uplift Cubans. Please continue to pray for Alberto and his team; that God would grant them strength and wisdom as they continue ministering in the country during these turbulent times. Please pray that those seeking God would find and cling to the peace and hope found in Christ. Please visit our website to learn more about the Cuba ministry and to partner with us in reaching Cubans.