Celebrating 40 Years of TWR Canada's Persian Ministry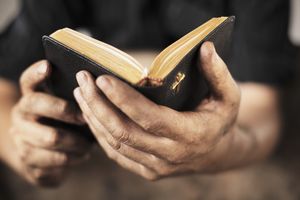 Celebrating 40 Years of TWR Canada's Persian Ministry
Take a look back with us and celebrate the past 40 years of TWR Canada's Persian Ministry.
We're celebrating 40 years of TWR Canada's Persian Ministry! We are so grateful for Tony's steadfast involvement and commitment to serving the Persian-speaking world. From starting the Persian ministry, to building and maintaining relationships, to hosting conferences to evangelize and disciple people, and more, we see that the Lord is at work through Tony in the Persian-speaking world. As we celebrate all that God has done through the Persian ministry over the past 40 years, we hope you'll find encouragement in the lived and breathed history, technological developments, and stories shared.
Back in 1982, the Persian ministry started with two 15‐minute weekly programs. By 2004, radio broadcasting expanded to two hours daily by shortwave and satellite radio and the internet. We've come a long way since the early 2000s when there was a paper shortage in the Persian-speaking world. Though it was – and is – illegal to bring Christian literature into the country, God has truly blessed us to be able to distribute printed copies of the Bible, hymnals, translated books, and many more resources as technology and needs have adapted.
As the demand for biblical teaching has grown, several new buildings have been added to our conference centre over recent years, which serve as a safe space for Persian Christians to gather in a nearby country. While in-person gatherings couldn't occur during the pandemic, a similar need was met through online meetings, where believers were so encouraged from the messages being taught and the discussions that followed, they asked for the calls to be extended. How wonderful that these physical and digital spaces alike allow people to grow with the love and thirst for Christ!
With advances in technology, we have sought to overcome the many challenges of distribution by using electronic means and social media. Years ago, we used books and cassette tapes recorded with Scripture and Christian music. These were replaced by CDs and DVDs. Across decades, radio broadcasts have shifted from shortwave and satellite to web radio. Now we also use digital libraries, USBs and SD cards. We provide resources on many topics in print and digital formats for believers to access that which best aligns with individual faith journeys and circumstances, as well as safety levels and general accessibility.
We see the impact of web radio through one man's journey from being raised in a semi-religious family, having disagreements with them, turning to drugs and leaving his community, only for God to change his heart and offer hope through salvation. He shared, "My family environment was like a prison to me, and I considered my parents as its keepers. I have always blamed others for my present position. For days, I walked the streets of Istanbul in weakness and anxiety. Twenty days later, one of my friends came to my hotel to assist me. After speaking for a while, I realized that he was a Christian. He'd been talking about Jesus all night and he downloaded your radio app to my phone. I hadn't seen him for two weeks, but something kept me listening to the radio every night. The following Sunday, he called me to say that we were going to church that day. After church, he and several other members began to pray for me. Something broke in my heart; I was crying hard. I repeated the prayer for salvation, and I believed in Jesus that day. A couple of days later, I ended up back in my father's house. Every day I read the Bible and every night I listen to the radio. It's clear to me that God loves me and forgives me. It was the hope I had, and it was God's blessing, which made me change my life. Thank you for the radio and everyone who works hard to help people like me find the truth."
We recognize that it is dangerous for these Persian speakers to believe in Jesus. When Tony asked some of the folks who were invited to a recent conference if they still wanted to attend, knowing they could be arrested as soon as they returned home, one brother responded: "We are being attacked by people who are filled with evil. Our faith is shaken. The most important thing is for us to study more of God's Word so we will be strengthened in our faith. If we do not come, we may not be able to fight this spiritual battle. By God's grace we will be there." It is humbling to see such a remarkable demonstration of unshakeable faith, as well as absolute dependency and trust in God to provide for these believers at all costs. Tony wholeheartedly extends his understanding, encouragement and prayers. God bless him and these persistent believers!
While it pains us to hear believers imprisoned and punished for their faith, we know Scripture points out many examples of imprisonment across history. We know we are called to have faith rooted in Christ and to trust in him to carry out his plans. Praise God for the challenges which ultimately bring us closer to him when we seek understanding, comfort, and strength from his Word. We pray for the safety of these believers so they may love God with all their hearts and not carry the burdening guilt of hiding their faith. We pray as the Persian Ministry continues to grow that God will continue to reach into the lives of people in the Persian-speaking world. For more information about our Persian ministry and the projects we're involved in, check out the Persian Ministry projects page on our website.