Ask and You Shall Receive Good News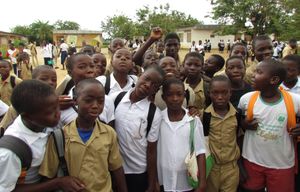 Ask and You Shall Receive Good News
Read more to get a glimpse of some of the fruitful work that is happening across the vast region of Africa.
In an area as geographically vast as Africa, there are estimated to be over 2,000 different languages spoken by over 1.4 billion people. As such, Africa needs the good news of Jesus in a variety of languages and through different approaches so each heart can discover the peace that surpasses poverty, disease and other hardships. God knows the details of each tribulation we face and the deepest desires of our hearts. Our perfect Father also knows our needs beyond what we can comprehend; he works in our minds and transforms our path when we seek his will in prayer. Read on to learn how God is at work in Africa through radio broadcasting, TWR Canada missionaries and more!
Jesus is the Answer and Good News for All are broadcast in Burundi through FM radio, WhatsApp, YouTube, Facebook and Twitter for speakers of the Kirundi language. Broadcast in even the most remote areas of the country, these beloved programs strengthen faith and renew family dynamics. Our earthly relationships will never be perfect but when we seek guidance from our heavenly Father, he provides direction with loving arms. As testified by this listener, the Lord moves us to repentance and forgiveness that transforms broken relationships:

"The Word of God you aired touched my heart. I am a Christian but there are some sins that I am still fighting against. I used to disobey my parents and one day my father cursed me. After I saw the consequences of his utterance, I listened to this program and decided to go and ask my father for forgiveness. He forgave me and I now fully respect him. He loves me and gives me whatever I need, opposite to when I disobeyed him. Thank you very much for the Word of God which changes our lives. God bless you."

God speaks to those who seek him! As Jeremiah 33:3 says, "Call to me and I will answer you, and will tell you great and hidden things that you have not known" (ESV).

Did you know Africa is home to the largest number of French speakers in the world? There are 120 million people in 24 francophone countries. In West Africa, the Discipleship Essentials radio program serves French-speaking communities. Many listeners share that these programs anchor them in their faith and propel them to follow in the footsteps and attributes of Jesus.

One listener shared, "This program is a gift from God to me! When I found out about it, I said to myself, Lord, I am taking this opportunity to become a good child of God, a true follower of Jesus Christ. It's time to do the good things that I have missed in the past. So far, everything is going well. People say good things about me and that makes my heart happy. Thank you very much for this program."

Bible Stories Alive teaches the stories and lessons of the Bible in a way that excites children (and their parents!), encouraging a desire to become like the characters. Last year, a pastor in Kenya reported more than 700 children attending a Bible Stories Alive listener group weekly! Here's what some listeners have shared:

"It is such a joy to know this program has changed the life of my daughter. She likes it a lot and shares the stories with her peers."
"I listened to the story of Moses, and I learned that God could use anyone for his glory."

As Bible Stories Alive listeners learned and shared, God chooses us and uses us for his glory. John 15:16 also mentions that we don't choose God, but he chooses us and appoints us to bear fruit so that whatever we ask the Father in his name, he may give it to us.
Appointed to bear fruit for his glory, TWR Canada missionary family the Clarkes are back in Eswatini after a restful furlough in Canada. It has been their desire to secure a new antenna that will expand their broadcast across East and Central Africa. While we continue to pray for this goal to be met, the Clarkes mentioned that they may need to accept that God might be saying this isn't the right time for expanding our ministry from Eswatini in that direction. While they wrestle with this challenge, they acknowledge that God has blessed them and the whole staff through conferences, as well as their children through Christian camps. Pray for the Clarkes as they seek the Lord's direction in speaking hope across the continent.
If you'd like to learn more or support the Clarkes, click here.
May the good news of Christ produce lasting fruit in the lives of you and your loved ones, just as we're seeing across Africa!