Support in Relationships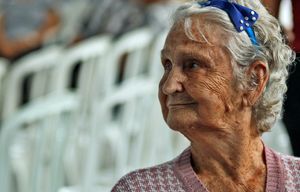 Support in Relationships
The ministry of TWR Women of Hope in the North Caucasus brings peace and consolation to people in this region of southwestern Russia. And this is not merely a slogan!
In 1999, a tense situation in the North Caucasus led to war, and people were dying. Missionaries left the Muslim republics, and churches were destroyed. The Caucasus people remember that difficult time, for the wounds have not yet healed. People have experienced hunger, loss of loved ones and homelessness. Now they're experiencing a different though similar fear: There is no peace, only anxiety and weariness.
The women are eager to hear and see signs of goodness and light. There is a thirst for hope and encouragement. It is the perfect time, therefore, for the ministry of TWR Women of Hope!
Each month, we visit three families that belong to the dominant religion of the area. The testimony of Alina and her son, Marat,* touch our hearts in a very special way. Alina is a widow. Having lost her husband and little daughter, her only hope remains with her 10-year-old son. They have no relatives to help them in their difficulty.
A few years ago, Alina was diagnosed with cancer, and a year later, her son was diagnosed with cancer as well. Alina prayed to our almighty God to not let her die while Marat is still alive, as there would then be no one to look after him. Eventually, her health began to suffer because her disability pension provided only enough to buy medicine for Marat. At that very moment when Alina was alone and needed support, God introduced us to her.
Now Alina is suffering from Hepatitis C. Although the disease is progressing, she still has only enough money to buy medicine for Marat. She sacrifices for the sake of a loved one, much like Christ sacrificed for each of us. The North Caucasus TWR Women of Hope team takes Alina to the hospital and does what they can to cover her basic medical bills. Watching her health decline has been painful, and we pray with Alina that the Lord Jesus would provide whatever is needed for her to fully recover.
We often ask ourselves, "What have I been worrying about lately?" As we consider Alina and Marat's story, most of the worries in our lives may not look so significant anymore. As our team visits visit Alina, trying to support her, we pray together and talk about Jesus. We realize that our faith must not consist of words alone; we need to act on our faith through deeds!
Please join us in praying fervently for Alina and Marat today.
* Pseudonyms are used to protect their privacy.