World Radio Day – Peace and Reconciliation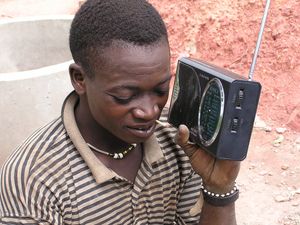 World Radio Day – Peace and Reconciliation
Learn more about how radio provides an opportunity to reach billions with the peace and reconciliation that ultimately comes from the hope, love and salvation found in Christ.
Happy World Radio Day!
Radio is the world's most widely consumed medium bringing us news, knowledge, entertainment and enlightenment. The theme of World Radio Day 2023 is "radio and peace", recognizing the role radio has in forging peace and reconciliation in conflict. In our recognition of World Radio Day, TWR Canada also celebrates how radio provides an opportunity to reach billions with the peace and reconciliation that ultimately comes from the hope, love and salvation found in Christ.
Radio provides an arena to speak to the diverse pain of the world and is a platform to promote solutions and healing in worldly and personal conflict. Through its accessible technology, radio can reach the most remote or inaccessible of areas and allows us to bring hope to people who wouldn't otherwise have access to this information due to geography or illiteracy.
We also have the opportunity to speak hope in places of conflict and war. In Ukraine, where war has led to power outages and missile strikes which threaten broadcasts, radio continues to provide listeners with spiritual comfort. Thanks to God's hand providing an emergency power supply and with the help of headlamps and power banks, the TWR Ukraine team can carry out planned programs and live broadcasts.
TWR Ukraine director Alex recently shared: "We were able to really appreciate the importance of light only when our country suffered a power outage and was plunged into complete darkness. Even during this time, we were able to win the hearts of our listeners through the truths of the Word of God."
Eager to find ways to reach the people of Ukraine with the gospel, the team discovered that people are returning to push-button phones and radios, making medium-wave (AM) radio a very relevant technology in this region. Many people are looking forward to having their own radios and the team has already started distributing them, even to the front lines of the war.
One listener shared, "Thanks to you, I have hope that God will not leave us and there will be victory. If there is an opportunity to get a radio from you for further studying the Bible, I would be grateful to you and the Lord."
Even though blackouts are happening in various parts of Ukraine, gospel-centred content is being produced and reconciling war-torn hearts to God's love. Please pray for strength and stamina as the TWR Ukraine team connects the troubled hearts of Ukraine with radios and biblical resources, encouraging the country with our reconciliation in Jesus, the Prince of Peace.
In Burundi, radio programs have resulted in tribe reconciliation and the healing of broken family dynamics. But beyond improving worldly challenges, broadcasting God's Word on the radio directs listeners to repentance and reconciles hearts to God, so that in him we may have the peace that comes from knowing there is eternal life in Christ.
One listener shared, "Thank you for the program you were broadcasting. May God forgive me for the sins of adultery, lust, self-righteousness and jealousy. I felt great hatred towards my parents, brothers and sisters but because of the Word of God you shared with us, I asked for God's mercy. Please pray for me to be forgiven and feel peace in my heart. God bless you for having released me from such sins. Blessings to you."
John 14:27 says, "Peace I leave with you; my peace I give to you. Not as the world gives do I give to you. Let not your hearts be troubled, neither let them be afraid" (ESV). Through radio, we see how God pours his peace into our broken war-struck world!
Radio provides us the ability to offer peace to billions facing worldly challenges. But more importantly, we have the opportunity to share the hope which can reconcile their hearts with Jesus. For 50 years we have spoken hope to the world and shared the peace that comes from how Jesus lived and died for our salvation with listeners. Over the course of the week, we will be sharing more stories on social media about how we reconcile hearts to God through radio. Follow along with us on Instagram and Facebook to keep up with and share in our excitement!