Thanksgiving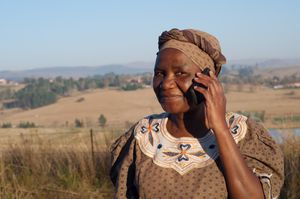 Thanksgiving
Hear from TWR Canada President Dan Reese on how he is thankful for your faithful partnership with us in sharing the gospel and disicpling believers across the globe! We praise God for the many stories of lives changed through TWR Canada's ministry.
We are entering the season where we are again given an opportunity to focus on thankfulness. I wonder, however, if we really understand what giving thanks means. Do we go about this season in a routine way, or do we really take time to pause and give sincere gratitude to God for all that he has done for us?
These are the thoughts running through my mind as I consider how best to convey my own personal gratitude for all those who support this ministry financially and prayerfully. We rely completely on the faithfulness of our God to supply all our needs, but I am encouraged that he chooses people like you to generously invest your God-given resources in what he is doing through TWR Canada.
The Bible is filled with many examples of people being thankful. Many of the Psalms put the idea of thankfulness into poetry, like in Psalm 86:12 which says, "I give thanks to you, O Lord my God, with my whole heart, and I will glorify your name forever" (ESV). We respond in gratitude when we truly understand and experience the goodness and grace of God. Many of you understand what this is like in your own lives. You have been transformed by your relationship with Jesus and have responded with thanksgiving. Several of the Apostle Paul's letters start off with thanksgiving for the recipients. I especially love how he starts his letter to the Philippians and his very personal letter to Philemon. What a powerful reminder that thanksgiving should be a regular occurrence and a natural part of our daily routines.
As I have had the opportunity to travel in recent months, I observed many people impacted by your generosity. Overwhelmingly, they have a sense of gratitude for the work that God enables us to do. During a recent trip to Cuba, our ministry partner Alberto took me to meet with listeners. I lost count of the number of times people expressed their gratitude for the radio broadcasts they hear from the Bonaire transmitter. In one village, Maria said, "Every night I sit by my radio and wait for the program to begin. I am so grateful for the people who create the programs and those who ensure it stays on the air. It is one of my few sources of hope and encouragement. I need this." Many others referenced their need for sound biblical teaching and commented that they know they can trust the teaching they hear on the TWR broadcasts.
A few months ago, I visited our partner team in the Philippines to see how Discipleship Essentials is being used by the Christian & Missionary Alliance churches throughout the country. We visited a small church high in the mountains where more than one hundred people came out to share with us how DE is impacting their congregation. One of the small group leaders, Roel, shared with our group, "I sincerely express my thankfulness to God for bringing me to this ministry. Moreover, this ministry provides spiritual guidance and encourages our daily lives especially in strengthening our relationship with God in prayer. I want to express my appreciation to the people behind it. Without your aid and his glory, this ministry would never be successful."
One of the most impactful field visits for me was the opportunity to participate in a conference at our centre in Central Asia. These Persian-speaking believers come from one of the most challenging countries in the world to be a Christian, where persecution is a daily reality. Often, these brothers and sisters do not know of any other Christians in their city or town. I was moved by seeing the joy and excitement that was evident when they were able to share their love for Christ openly with newly found fellow believers. In talking with those who attended, they expressed their sincere gratitude for the opportunity to worship freely and to deepen their faith in Christ.
These are but a few of the hundreds of responses we receive or hear firsthand. All of this is made possible through the sacrificial giving of God's people. I trust you see the connection between your financial investment in this ministry and the return on that investment – transformed lives! As we enter this season of thankfulness, would you partner with us to speak hope to the world? As the Lord enables, I encourage you to consider a further generous investment in the ministry of TWR Canada. Your financial gift today allows us to continue giving hope, encouragement, spiritual growth and more to people all over the world who are searching for it.
Thank you again for your partnership in the gospel from your first day until now. May each one of us respond in gratitude for all that he has done for us.
With a thankful heart,

Dan Reese
President
TWR Canada