Speaking Hope into Hearts in Quebec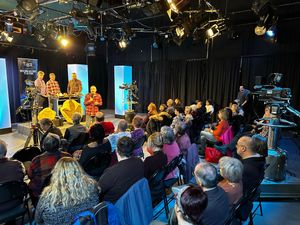 Speaking Hope into Hearts in Quebec
Our partner, Aujourd'hui l'Espoir, continues to speak hope into the hearts of the people of Quebec. Learn more about how we use television, radio and internet to reach unreached people across Quebec!
For over 20 years, we have partnered with Aujourd'hui l'Espoir to speak hope into the hearts of the people of Quebec. This province is considered to be the largest unreached people group not only in Canada but in all of North America, with less than one per cent identifying as evangelical Christians. As you continue reading, may you be encouraged by how God is changing lives and reaching the unreached through our ministry in Quebec!
Aujourd'hui l'Espoir produces content for a variety of platforms, including the FM station established in 2021, which airs programs such as those from Thru the Bible and Heralds of Hope. Television also effectively reaches the Quebecois through the beloved program La Parole Vivante.
An 82-year-old retired teacher who particularly enjoyed teaching religious education called the Hope Line recently to say how much he loves La Parole Vivante. He has been watching it for a long time – first with host Réjean Joly and now with host Simon Ouellette. He mentioned he writes down the teachings, which has resulted in three large notebooks to date.
Here's the rest of his story, as shared by a team member who operates the Hope Line: "He confided in me that he had converted and that his life had changed. He told me that one day when he was in church, he asked the priest (a bishop visiting that day) just before mass if he could confess. The priest hesitated and said, 'I can't right now, I have to say mass.' The man replied, 'Okay, then I'll do as the Protestants do: I'll confess to God alone.' Then the priest changed his mind and hurried to have him confess!
"After his confession, this man told me that he felt changed. He became friendlier, more helpful and kinder. I asked him if he had ever heard of the new birth and Nicodemus in the Bible. He said it sounded familiar. I mentioned that the story is in the Gospel of John and asked him, 'Do you have a Bible?' 'Yes, but it is in English and I have trouble understanding it,' he said. I offered to have someone bring him a copy of the New Testament in French and he accepted. I explained to him what the new birth was and told him that this was what he had experienced after his confession in this church, when he felt changed, no longer the same: well, this is the new birth! It's like being a new person, like being born again."
Praise God for how he has worked in the life of this 82-year-old man and the ways his faith has grown through La Parole Vivante!
To speak hope to more unreached people across Quebec, we are in the process of installing repeater FM stations across the province. Increasing broadcasting will allow smaller churches and villages that lack the resources to evangelize to share with their community what a loving relationship with our Heavenly Father entails. We have five locations that are in the application process – three have already signed partnership agreements and the others should be signed soon as well! Please join us in praying for this process!
As we reflect on the lives that God has changed in Quebec, we also look ahead to the lives that will be changed in the years to come. Through God's Word, we are invited to use our ears and eyes to experience the glorious deeds and wonders of the Lord; he speaks to us through generations passing down these teachings and sayings from of old, things that we have heard and known, that our fathers have told us (Psalm 78:1-4). Let us not hide these teachings but rather proclaim them to all those who need a reminder of God's everlasting love!