Seeds through Radio, Fruit through Conferences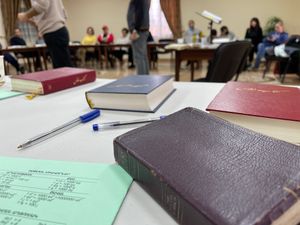 Seeds through Radio, Fruit through Conferences
Hear from Persian-speaking believers how web radio and conferences are opening their eyes to the power of God's Word and filling them with peace.
Are you curious about how the hope of the gospel can still be found in hostile places such as the Persian-speaking world? Do you feel uncertain sharing the good news of Christ here at home, and wonder about the bravery of believers in countries closed to the gospel? As you read on, may God touch your heart and show you how he orchestrates his goodness and love in these places. We praise the Lord that he offers hope to the Persian-speaking world through web radio and conferences.

With web radio, testimonies repeatedly exemplify how the hope of God seeps into the ears and hearts of listeners. The Lord then nudges the person forward, curious to learn and grow closer to the deep sense of peace that is offered through salvation. This is where conferences are important: they intervene in the hearts of spiritually thirsty people and establish a lasting sacred connection. Through this time of fellowship, God shows them how much he values them by filling their minds with purpose, meaning and peace.

In fact, the marriage of one strawberry farmer and his wife was strengthened through a conference held in the Persian-speaking world. They have been married for three years, and the wife was a believer, while her husband was not. Slowly, the husband had become curious about his wife's faith, and together they attended the conference. When the wife saw her husband accept the Lord at this conference, she experienced a special peace in their marriage. Now they both feel the peace of God.

During an interview, the couple was asked if they are able to connect locally through a house church or any other means of community, to which the husband responded: "Apart from conferences, online meetings are the only place I am with other believers. It can be hard to tell family as they are extreme fanatics. They cannot accept that one of their members converted to Christianity. At this time, we are very cautious; we try not to give any excuse for them to destroy our marriage because they are against it. People have their own way of thinking and don't respect other people for their attitudes or other beliefs. So, we keep it quiet."

When asked if they feel safe on these online platforms he said, "We are not afraid. God is our shepherd."
"At the conference, it was the first time I heard the Word of God," the husband shared. "I recognized what Christianity had to offer me. We are not forced to follow the Lord, but rather feel that God's love is calling us to follow him. My friend came with us – we both had never been in a Christian setting before, but my friend was much more interested to hear the gospel. For years he had been searching to hear the gospel. When we came here, we heard of Christ and how he is kind and full of truth and love, and this prompted us to make a decision."
Regarding this decision, the wife commented, "I was so glad when I saw that in the middle of the class both decided to go forward, pray and accept the Lord Jesus Christ. I started to cry. When I feel there are more believers, I feel closer to God because I see other new brothers and sisters here for me. We come to the conference with heavy hearts and when we leave, we are very light; like a bird to fly, we leave feeling very happy."

"We are coming here to read the Word of God, learn how to sing and praise God and have fellowship with other believers because we don't have that in our country. Here, we can worship God, rejoice and grow in our faith. We can feel that God is talking to us."

Another attendee shared the following: "When I first became a believer, I didn't understand the connection between the gospel and Jesus Christ. Through radio, I learned that the gospel is talking about Jesus. When I was listening to the radio it was interesting, but I wanted to know more. Through the conferences, I matured in my faith. Tony [TWR Canada's Persian ministry leader] explained Bible verses to me, opened up to me and changed a lot of things in my life."

What starts as a planted seed through web radio is nourished and maintained by the community and fellowship that's offered through conferences. We hope you are encouraged by this update, and we thank you for reading! To learn more about how you can support TWR Canada's Persian ministry, click here.