Reaching Canada and the World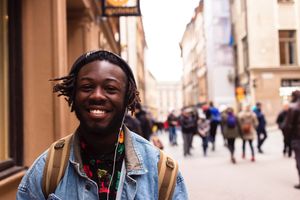 Reaching Canada and the World
Hear from TWR Canada President Dan Reese on how we seek to provide media-based biblical content and leadership training tools for use both here in Canada and around the world.
Dear Friends,
For the past 50 years, TWR Canada has invested in evangelism and discipleship initiatives around the world, using the power of media to bring hope and healing in Jesus to millions. My first clear memory of TWR Canada is from the early 1980s when my father was pastoring a church in Kitchener, Ontario. A couple went out from our church as missionaries with TWR Canada and it was impressed on my memory that they were using technology to share the gospel. That couple was Steve and Barbara Shantz, who have now spent more than 40 years with TWR in many capacities including Steve's current role as a vice president of TWR International.
My initial understanding of TWR Canada's work was probably similar to your first awareness – a radio ministry somewhere in other remote parts of the world. While you may now know that we are more than radio, did you know that TWR Canada has ministry initiatives right here in Canada? As Canada continues to be one of the world's leading countries in welcoming immigrants and refugees, we are seeing the mission field come to us. When Jesus gave the Great Commission in Matthew 28:18-20, he wasn't just talking about overseas missions. I am convinced that it is our responsibility to share the love and hope of Christ with our neighbours, whether they are newcomers to Canada or born here.
So, how do we do this? Well, TWR Canada has the media content and leadership training tools in the heart languages of many of our neighbours, because we work with these people groups around the world. We seek to partner with local churches and ministries across Canada to use these resources God has gifted us with to bring hope and healing in Jesus to our own nation.
For example, Discipleship Essentials is our primary discipleship tool, bringing people from a basic understanding of who Jesus is to a deeper knowledge of how to share their faith and lead small groups. Available in more than 15 languages, DE is a resource that can be introduced to new Canadians from many parts of the world.
Additionally, Every Man a Warrior is designed to strengthen men in their spiritual formation, helping them become better husbands, fathers, and church leaders. As this ministry grows across our nation, I am excited to see how God uses this material to impact men.
The technology we use around the world also has great opportunity to be used here in Canada. Media players, equipped with hundreds of hours of audio content in many of the most commonly spoken heart languages across Canada, can be shared with newcomers. The audio content provides listeners with access to the Word of God in a convenient way. As you become aware of a new neighbour who has moved into your community, consider giving them a tangible gift with life-changing potential.
This summer, we have been filming the video portion of a new resource called CultureCross. This 12-week study on understanding different worldviews and how to share the gospel with people of different worldviews will be a free resource for you and your church to help you be better equipped to share the hope of the gospel with new Canadians in your neighbourhood. Stay tuned for more information in the coming months!
But it's not just newcomers we are called to reach. Those born in Canada also need to hear of the hope and healing found in Jesus. For more than 20 years, we have partnered with Aujourd'hui l'Espoir to reach Quebec with the gospel. In addition to their long-standing television programming, an FM radio station began airing nearly two years ago, which is reaching the province in a new way.
We're also exploring new ways to speak hope across our nation. In recent months, we have begun conversations with partner organizations to bring the love and hope of Christ to indigenous communities across Canada. We're in the early stages of creating programming specifically for new Canadians, introducing them to Jesus and to practical topics surrounding life in Canada. And we're creating plans to grow our women's ministry here at home.
Whether it's in Canada or around the world, we see people find hope and healing in Jesus and we are working to reach even more people with the gospel. Would you consider joining us to provide media-based biblical content and leadership training tools for use both here in Canada and around the world? Thank you for your financial partnership. Together we can reach the world for Christ so that lasting fruit is produced.
With a grateful heart,

Dan Reese
President
TWR Canada
P.S. From our neighbours to the ends of the earth, our world needs to hear the hope of the gospel. To give today, please visit www.twr.ca/fall2023, or call our office at 888-672-6510.