Missionary Spotlight: The Clarke Family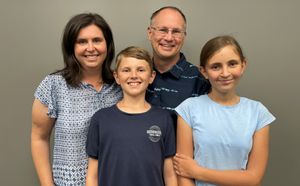 Missionary Spotlight: The Clarke Family
The Clarke Family was on furlough this summer, and we had a chance to meet with them and chat! Read more about the exciting work they do in Eswatini.
This summer, TWR Canada missionaries, the Clarke family, are home on furlough and we got to chat with them in our London office! Greg, Ingrid and their children Rebekah and Caleb arrived in Canada in early May and will be going back to Eswatini this fall. Greg and Ingrid both knew from a young age that they wanted to be involved in ministry work but didn't know exactly what that entailed until God opened their eyes to the opportunities to serve with TWR, starting with Greg in 1995.
With Greg's background as an electronics technician, he served as a studio technician for a number of years at TWR sites in Bonaire, Slovakia and Africa. Ingrid was born in South Africa and was involved in the young adult ministry at her church, which is how the couple met. Ingrid's background in accounting brought her to the accounting and administration work she does with TWR in Eswatini now. God used their previous work experiences and skills obtained earlier in life and directed them exactly to where and how they are now serving. How inspiring is the orchestration and timing of the Lord!
After recent years of lockdown, travel bans and many unique hurdles, the Clarkes were excited to have an actual summer break to spend time as a family in Alberta. While the kids have been enjoying Bible summer camp programs and other activities, Greg and Ingrid have been visiting with supporters, sharing the impact of their involvement and building and maintaining relationships. Sharing the impact of the ministry with their supporters reignites the fire of God's calling in their lives, as they are reminded of the global partnership which allows for those across East and Southern Africa to hear the gospel.
Occasionally, Ingrid will go to the transmitter site and directly hear some of the TWR programming being broadcast. Being up close to the action where the antennas emit God's Word makes her feel in awe at the size and magnitude of all that we do as an organization. Ingrid plays an integral role behind the scenes with finances and administration in Eswatini but seeing those antennas up close and hearing the messages reminds her of the big picture, which connects her to the impact of all her and the hard-working team's efforts.
Greg also connects with the team through weekly devotions and sends staff to listener groups to see the in-person effect of how listenership is growing. Recently Greg transitioned from office manager to station manager. He mentioned the transition has been rewarding because he was able to address the fact that the team was hurting and can celebrate the ways the new office manager has really pulled things together. Everyone has been growing together; a strong sense of trust has been developed within the staff over the past few years. The team is investing in staff training for skills such as in electrical, welding, and plumbing, as well as offering employment contracts with benefits so that hired staff can better provide for their families. Praise God!
When the Clarkes were chatting with us, they mentioned the strong divide between Muslims and Christians. There is a plan to install new antennas to reach into areas such as Somalia, Chad, Ethiopia and Sudan. "While we are trying to convert [people to Christianity] and offer hope, so are the Islamic groups," Greg mentioned. Islamic groups will offer free Muslim-based education and this is very appealing for communities who don't have any other affordable educational means or simply don't know where else to turn. When listeners tune into TWR programming, they're seeking a message of hope in a dark time. We praise God for the role the Clarkes play in maintaining the tools and infrastructure to share the hope of Jesus.
As God has blessed us with the technology to bridge geographical distances through social media, the Clarkes are also developing a new social media presence to stay connected! Follow them on Instagram (Ingrid and Greg) to see their latest news on project work and family life, and check out the video put together by their sending church, First Alliance Church in Calgary, AB.
Please pray for the Clarkes as they travel back to Africa and pray for the new antennas they plan to install to reach more areas in East and Central Africa. While there have been setbacks securing and receiving equipment, their faith assures them that God is leading them to carry this project out. Pray for the family's future, their security, their children and their education. There is much comfort and strength in knowing that God leads us every step of the way when details are unclear to us. Many times Greg has a vision for a project and Ingrid helps with the logistics to cement his ideas into realistic plans. Praise God for gifting and equipping Greg and Ingrid to deliver the message of hope to people in Africa!