Making Known God's Deeds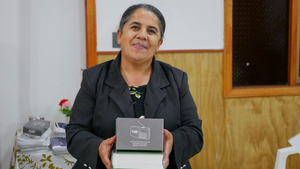 Making Known God's Deeds
This week, we are sharing testimonies from around the world of lives that have been transformed through Christ. Join us in praising God for how he is working around the world!
"Oh give thanks to the LORD; call upon his name; make known his deeds among the peoples!" (1 Chronicles 16:8, ESV)
It is good to give thanks to the Lord for who he is and what he has done! Each week, we at TWR Canada hear stories from around the world of the ways in which God is at work. Today, we want to share some of these stories, so that together we can praise God for his deeds among the people! Join us in calling upon the name of the Lord and giving thanks for all he has done!
"Amen! Obedience to the Word of God is good for us. He is our guide and he has good plans and purposes for those who obey and adore him." – from a listener in Cuba
"Thank you for inviting me to this listener group. The broadcasts free my head from many things and bring me closer to God little by little. Today I don't feel too far away from God like I used to. Thank you for this!" – a listener of Women of Hope in Côte d'Ivoire
"It is very good material; it will help us to grow. We loved the training, learning to share our testimony and teach our churches. We will be able to reach more people, and more children in Sunday school. This is our dream! With that child, we know that the gospel reaches the house, because the children talk to their parents about what they learned in church. We needed this; we have not received material as valuable as this before." – a recipient of a media player distributed in partnership with ShareWord Global and Thru the Bible
"I thank God for giving me the opportunity to participate in the preaching fellowship in the early days of my ministry. I am very thankful to the teachers for their earnest and professional guidance. They helped me to identify my errors and weaknesses, and then pointed me toward the direction of future improvements." – a member of a China ministry preaching fellowship
"Blessings to you good and faithful people. In the name of our heavenly Father, thank you for sharing the infinite blessings of our merciful God." – a Persian ministry social media follower