Looking Ahead at 2023: A Letter from TWR Canada President Dan Reese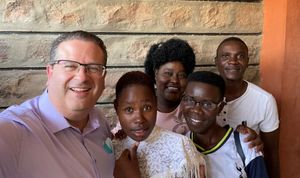 Looking Ahead at 2023: A Letter from TWR Canada President Dan Reese
Read TWR Canada President Dan Reese's answer to what he is most excited about in 2023.
"What are you most excited about in 2023?"
One of our staff asked me this question recently and it gave me reason to pause and think about how to best answer such a great question. For me, my excitement is rooted in witnessing our effective partnerships with believers around the world, assisting them in the proclamation of the gospel, hearing stories of impact as lives are changed through intentional discipleship and leadership training, and the effective use of technology to support these efforts.
This past year has afforded me several exciting opportunities to visit the field and witness firsthand the impact of our partnerships. I met with believers from the Persian-speaking world at our conference centre in Central Asia and heard their harrowing stories of living out their faith in a part of the world where it is dangerous to be a Christian. These believers face real persecution to claim the name of Christ and yet they exude the joy of their salvation. I spent time at a refugee camp in Kenya where an FM transmitter is a beacon of hope to the hopeless. Children are built up through visits from the station's staff and the Bible Stories Alive weekly broadcasts. Seeing nearly 200 children singing, dancing and sharing what they are learning made a significant impact on my understanding of the work that we are called to do.
Just a few weeks ago, I had the exciting privilege of visiting one of our ministry partners, Alberto Gonzalez, in Havana, Cuba. If you have been partnering with us through the years, you will know of Alberto, who has been ministering to many people and churches in Cuba during these difficult times. Alberto is now 80 years old, but he continues to produce radio programs that are broadcast across Cuba from the TWR transmitter site on Bonaire. He also invests his time and energy in developing church leaders to strengthen the church in Cuba. Pray with us as Alberto seeks to raise up a new leadership team to continue and grow the ministry he has invested in for so many years.
The Great Commission instructs us to disciple those around us. As we go about our daily activities, we are to disciple the family, friends, and co-workers that God puts in our path. It excites me that many of our core ministries are focused on discipleship. SOTA seeks to disciple and equip church leaders in China to strengthen the church. Discipleship Essentials is having a great impact through our partners with more than 24,000 small groups using DE around the world. In January, I hope to see some of this in action in the Philippines, as I visit with one of our partners who has incorporated DE into their ministry.
The beginning of this new year, 2023, is an especially exciting time for me, along with TWR Canada, as we celebrate our 50th anniversary. We are once again reminded of the faithfulness of our God over these past fifty years. Much has changed in our world over this long stretch of time, but I am so grateful that our loving God has not changed. He has been faithful to guide this ministry through turbulent economic times, changes in technology, and various leaders.
It is a privilege to partner with you and so many others in carrying out the calling of TWR Canada, "to reach the world for Christ through media so lasting fruit is produced." This is what motivates us each day and gives us the excitement to passionately pursue our mission. May the Lord bless you this new year as you join us in speaking hope to the world.

Dan Reese
President, TWR Canada