"I Savour Every Listen Like a Good Dish."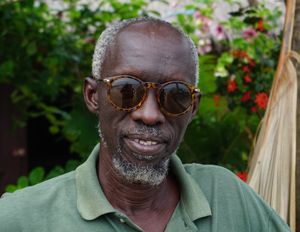 "I Savour Every Listen Like a Good Dish."
In West Africa, we use radio to broadcast Discipleship Essentials to French-speaking communities. Read more to learn how participants are eager to grow in faith and disciple believers!
In West Africa, we use medium wave and FM radio to broadcast Discipleship Essentials to French-speaking communities. As we follow up with listeners and connect with the matters of their hearts, we recognize the ways God is changing lives through these deeply appreciated broadcasts. Praise God that these listeners have questions, are eager to grow in faith and are sharing the blessings of Christ with those around them!

Many of us learned fundamental life lessons in rows in crowded classrooms, but have you ever considered that some of the most meaningful takeaways often happen in small group settings, in community-based learning that is rooted in extending Christ's love and grace? Through broadcasting Discipleship Essentials, we see the cyclical patterns of cementing biblical knowledge into faith and discipleship: listeners become believers who, as they learn Christian doctrine and character development, become equipped to disciple others as well.
Using the free library of discipleship resources on more than 130 topics, our partners in West Africa highlight the importance of community and small-group relational discipleship through these broadcasts. Hearts are transformed by Christ's love, which in turn instills forward momentum and a deep desire to reach others with the gospel message! Hear from the hearts of listeners in West Africa as they share the ways in which Discipleship Essentials has taught them how to live as a child of God and gratitude that reproduces a growing desire to change more lives:

"Thank you for the discipleship program. I am richly blessed every day to find the answers to my questions. These answers dispel my fears and reassure me that I have chosen Jesus. Thank you all."

"A disciple is one who follows the instructions of the master. I love being taught and framed by these wonderful teachings! I'm blessed to know you and I savour every listen like a good dish."
"This message goes straight to my heart, and I pray that the Holy Spirit will touch the hearts of my children so that they will listen to this very edifying message in Jesus' name! May the Lord our God bless our lives! It pains me that I didn't get to know Christ early on and teach him to my children. They have grown up and gone their own way. But I remain confident because God's power is great and surpasses human limits."

"Blessings always, my God, and shower us with your divine grace. Keep us in your love, flood us with your Holy Spirit so that we live this day, this breath of life that you give us, in simplicity of heart, in humility and holiness. We need you; we can't do anything without you, but with you, we can do anything. Thank you, God, for all you will do for us on this blessed day. Amen."

Through God's grace, we are making disciples who savour the spiritual food of God's Word! Would you join us in praying that Discipleship Essentials would continue to effectively reach West Africa? Please pray that listeners and small groups would integrate lessons learned through this radio program and that they would grow in capacity to produce disciples within their communities.