"I Have Learned to Love My Friends as Jesus Loved."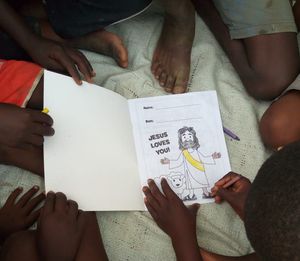 "I Have Learned to Love My Friends as Jesus Loved."
Bible Stories Alive continues to encourage and edify children while reviving the hearts of adults who also tune in. Read more about the foundational biblical knowledge children gain through this program!
If this picture told you a story, how would it sound? There are so many ways to tell a story and different ways that people gather meaning and learn. In this picture, we read "Jesus loves you", which tells one story. The circle of children sitting on the floor, with different hands supporting different parts of the paper while another colours, tells another story.
Stories provide us with an opportunity to learn through the lives of others. God's Word is filled with stories for us to learn from and while Bible Stories Alive was designed with children in mind, it is also a resource that feeds the minds and fills the spirits of adults! We translate and produce Bible Stories Alive in Arabic, Mandarin, Persian, Spanish, Somali, Gujarati and Hindi, but this week we are focusing on the Swahili language in Kenya!

Bibles Stories Alive is a weekly program that provides children with foundational biblical knowledge through storytelling. Translated into Swahili from the English series written by Kitty Anna Griffiths, the program is aired on four FM stations across Kenya. The stories are primarily intended to reach children between the ages of 4 and 8, but over the years it's been noted that children between 8 and 15 have also been tuning in. Parents and teachers are frequently tuning in as well!
Written in a you-are-there way to Swahili-speaking children and families, Bible Stories Alive makes the children feel as if they are actively involved in the story and learning in real-time with characters like Moses, Abraham and Joseph as God is teaching them the lessons. Children are invited to visit the studio and encouraged to participate in weekly live broadcasts where they recite poems, riddles, sayings, songs and Bible stories.

The responses we receive show how Bible Stories Alive is used as a resource and connects people to learn from and grow with each other:

"I volunteer to teach Sunday school to other children like me because I have learned many Bible stories that I am always eager to share with others."

"I am happy as a parent that my child is more prayerful. This program is very good."
"I have learned to love my friends as Jesus loved us and to share what we have."

The children in Kenya learn from the stories, but parents and families are also learning from the power that is held in speaking these stories out loud and in sharing their excitement with others. For parents, even if they have heard these messages in some form previously, their hearts are revived and encouraged through the enthusiasm and edification of the children who listen.
Many of us come to faith through our families. For some of us, Christianity extends generations back from parents and grandparents who have instilled a biblical upbringing in us from a young age. There is harmony between what children can learn from adults, as well as what adults can learn from children. Proverbs 17:6 says, "Grandchildren are the crown of the aged, and the glory of children is their fathers" (ESV). We are blessed through our family members when we are united in sharing biblical knowledge and resources as we form the hands and feet of the Church.
Thank you for reading! If you're curious to learn how TWR Canada is involved in other media content projects, use the filter on our map feature to select "media content" and have fun wherever you end up in the world!