God is our Refuge and Strength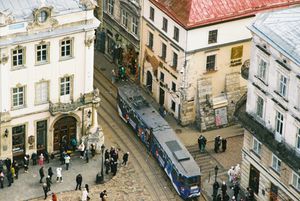 God is our Refuge and Strength
Read more about our new initiative to connect with the people of Ukraine on a personal level and support them in their spiritual lives.
Despite the fact that Ukraine hasn't been in the news as much as it was when the war first struck a little over a year ago, the effects of the war continue to alter lives across the country. God is our unchanging refuge and strength, and as the war continues, TWR Canada is engaging the region in exciting new ways to share God's everlasting love. As you read on, may you be encouraged by this new initiative through which God is at work across Ukraine!

We praise God that both the team and infrastructure in Ukraine have not been affected by the continued missile strikes. While God doesn't change, he does change lives, and he works through the team as they continue to record programs, distribute SD cards and create content for social media.

Because of the impacts of the war on their nation and its people, TWR Ukraine has begun a new initiative to share the hope of Christ with Ukrainians. TWR Canada has partnered with the team in Ukraine to engage with those affected by the war in new ways while supporting the country's spiritual needs. We are creating a new video series to show how Christians are living, how they re-establish their lives from the ashes and how they live through tribulations.
This new video series called How Are You, Out There? will show Ukrainians how others in their country are truly living in their cities during this time of war, what they have lost and what they have gained. While war is devasting in its outcome, it does urge people to reflect on their spiritual beliefs and testifies to how God has worked in the hearts of those affected.

Through interviews and reporting, the team will ask people – pastors, politicians, everyday people on the streets – how they're really doing and examine topics such as how church life has changed and how, as a result of the war, it has connected with those who previously had nothing to do with the church or Christianity, how the consciousness and habits of Ukrainians have changed, and what their new reality has become.
Some of the questions asked during interviews will include: What have you stopped paying attention to? What motivates you? What do you consider to be positive? What suffering are you going through?

These questions will surely get people thinking and should provoke some interesting conversations! This on-the-ground work – connecting directly and compassionately with people who are experiencing the war first-hand and providing opportunities for them to tell their stories and for others to hear and share in their experiences – will aid in uniting Ukraine and shed light on God's steadfastness. Amidst the rubble and trials occurring around them, God is revealing himself to the country through the ministry of TWR Ukraine. We can't wait to share the impact this series will have on those who are interviewed, as well as the audience who will relate and be encouraged through these videos!

As we continue to pray for the situation in Ukraine, let God's Word remind and encourage us to place our trust firmly in him. Psalm 46:1-3 says, "God is our refuge and strength, a very present help in trouble. Therefore we will not fear though the earth gives way, though the mountains be moved into the heart of the sea, though its waters roar and foam, though the mountains tremble at its swelling" (ESV). While the earth gives way in Ukraine, the program How Are You, Out There? will demonstrate how believers are continuing to put their unwavering hope in God, our fortress of refuge and strength.

If you feel urged to help Ukraine, we invite you to learn more and donate here.