Finding Eternal Refuge in Christ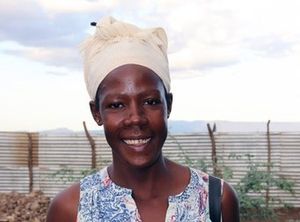 Finding Eternal Refuge in Christ
June 20 is World Refugee Day, a day to honour the strength and courage of those who have been forced to flee their home countries to escape conflict or persecution. Learn more about our work in Kakuma Refugee Camp!
Today is World Refugee Day, a day to honour the strength and courage of people who have been forced to flee their home countries. The UN's refugee agency estimates that there are 35.3 million refugees worldwide. More than 70 per cent of refugees originate from just five countries, one of these being South Sudan. In 1992, during the Sudanese civil war, 20,000 orphaned boys, called the "Lost Boys of Sudan," arrived in Kakuma, in the northwestern region of Kenya. This is when Kakuma Refugee Camp was established, now one of the world's largest refugee camps with a population of over 200,000.
In 2018, our partner TWR Kenya identified a need within Kakuma Refugee Camp to teach the Word of God and disciple believers through biblical radio programming. At that time, TWR Kenya shared, "We truly believe that when God established Kakuma, like the cities of refuge that we read of in the Bible, he had more in mind than just creating a place for people to hide for protection. We believe his intention was to affirm life and to point them to the true place of refuge at the foot of the cross of Jesus Christ."
Atoo Sifa FM has been broadcasting the hope of the gospel in the camp for over two years, and we praise God that many have found refuge in Jesus through its programming. Sandra, a 27-year-old single mother living in the camp, embodies the story of hardship and rejection that many refugees have experienced. Having lost or been abandoned by much of her family, she was almost at the point of giving up. It was at this time that she listened to one of the FM station's programs on trauma and healing, which encouraged her to get up, face the past and forge a future for herself and her children.
Looking at her now, one can hardly tell the challenges she has experienced; her face tells the story of joy and peace found in Christ. Whenever she can, Sandra listens to the radio programs and says it was the program The Sunday Blessing that helped her discover eternal refuge in Christ and convicted her to make disciples in the camp. Further, the program Youth Junction encouraged her to stand firm in Christ and to face life's challenges as a young single mother. She now counsels and helps teenage mothers in the camp and has been instrumental in forming a support group for single mothers.
Another impactful radio program we broadcast in the camp is Bible Stories Alive, which airs weekly and provides children with foundational biblical knowledge through storytelling. We are thankful for how it is reaching into and nourishing the hearts of children. One listener says, "I have learned that God loves even the little children. I am happy to know that Jesus loves us." Praise God for how he also edifies adults who tune into the programs, like this parent: "I am one of the parents that is always blessed to participate and listen to the children's program on Saturday. God Bless Sifa FM for nurturing our kids through teaching and preaching the Word of God."
In Kakuma Refugee Camp, radio has been the conduit through which countless lives are finding their eternal home in Christ. We praise God for his faithfulness and compassion towards those residing in the camp and rejoice that we worship the God of refuge: "On God rests my salvation and my glory; my mighty rock, my refuge is God" (Psalm 62:7).