Encouraging and Empowering Women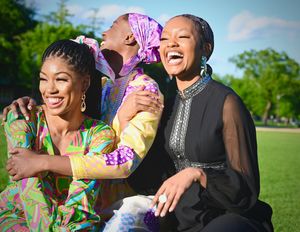 Encouraging and Empowering Women
On this International Women's Day, we are celebrating Women of Hope and how its programs educate women and their families and empower them to make positive changes to both their spiritual and physical lifestyles.
All over the world, Women of Hope programs educate women and their families and empower them to make positive changes to their lifestyles, both spiritually and physically. These programs teach the love of Jesus and provide valuable insight on topics such as depression, abuse, baby care and communication. Jeanne, TWR Women of Hope coordinator in Mali, writes the Bambara-language program scripts in a way that is relatable. Her passion to show these women their worth in Christ transmits powerfully through radio, as well as through seminars and conferences. One recent seminar on violence against women and children at a church in Mali was attended by more than 200 people!

Listeners of Women of Hope share, "The programs are truly educational, constructive and uplifting. I want the church to come to us." Another mentioned that Women of Hope opens a door for Christian radio stations in the community to share the gospel, as Women of Hope is a much-loved program. One station's audience includes over 20,000 people!

The following testimony recently came from a pastor in Mali and tells the story of two mothers who live together, but disagreements between them caused conflicts that negatively affected not only their own lives but also the lives of their children and husbands. Through God's intervention and the airing of Women of Hope, however, their hearts were reconciled!

"They listened to a Women of Hope program about the conflict between mothers-in-law and daughters-in-law and the reconciliation that brought peace to this family. Both mothers were moved by this example and they decided to make peace with each other and abandoned the spirit of vengeance that filled their hearts. They appealed to their husbands and apologized. From then on, the conflict was over in this family. One mother came to the radio station in Kalana to explain what happened because of Women of Hope."

Through community, prayer, innovation and technology, God is strengthening women and calling them to make a difference. Scripture is filled with stories of women who are encouraged to use their gifts to serve God and others. For instance, we think of Ruth's nobility and strength to provide for herself and her mother-in-law Naomi. Proverbs 31:16-17 also says, "She considers a field and buys it; with the fruit of her hands she plants a vineyard. She dresses herself with strength and makes her arms strong" (ESV). Women of Hope teaches and encourages women to extend their arms out with God's love and grant strength to others as well.

Thank you for reading! To learn more about our women's ministry, we encourage you to visit our website or sign up for our Women of Hope prayer calendar to join us in praying with and for women all over the world!