Committing Our Work to the Lord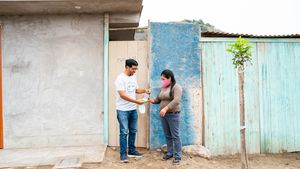 Committing Our Work to the Lord
We are excited about many new initiatives and projects in 2023! Get a glimpse of what we are embarking on this year.
With advancements in technology, God provides TWR Canada the opportunity to reach billions of people who need the hope of Christ. Whether that's hearing God's message for the first time on a media player or enriching a relationship with Christ through content available on an app, we're excited to share the fruits of the gospel in areas like North Macedonia, Africa, South America and within our own country! Read on to learn some of what we're excited about for 2023!

Through prayer and the generous support of our donors, we are blessed to see glimpses of the lives God touches through our ministry, which urges us on to expand how we address our global need for Christ. For instance, did you know over 80 per cent of people worldwide have a smartphone? Since so many of us have smartphone access, we partner with other ministries to create apps filled with biblical content tailored to meet the needs of users as they navigate their faith journey. In the coming months, we will be releasing 10 new apps to help people connect and stay connected to the hope of our Saviour!

One of these partnerships includes working with the TWR team in Europe to release an app called 'Lighthouse' for the North Macedonian ministry. Included in the app is Voice of Truth, a much-loved program for the Roma people of Prilep, which has resulted in church growth and a surge of social media engagement. Lighthouse also includes several other Macedonian-language programs to share the gospel and provide biblical resources for believers. We are thrilled to support the needs of our partner ministries through app creation and look forward to seeing how this app will encourage the hearts of the North Macedonian Roma people, many of whom are from a Muslim background.

Another way we have been sharing hope is through sending media players loaded with biblical content in specific heart languages. Last year, we sent 20 Swahili-language players to Tanzania in partnership with Global Aid Network (GAIN) as a pilot project. We received positive feedback from GAIN, confirming that the lay leaders who received the players learned how to use them and listeners benefited greatly from having access to the players. One woman visited each of the homes around her to play the content to those in her neighbourhood, inviting families to listen. Many people have recommended the player saying, "The ways of God are contained here!"
God is moving in the unreached people group of the Assa people in northern Tanzania through these media players! As Proverbs 16:3 says, "Commit your work to the Lord, and your plans will be established" (ESV).

And commit we shall! In fact, we just shipped an additional 50 Swahili-language players to Tanzania, along with 230 Fongbe-language players to Benin and 70 English and Mano-language players to Liberia, in partnership with GAIN.
We are also sending media players to South America! In partnership with Shareword, we recently shipped 120 players each to Chile and Peru. This is the first batch of what will eventually be a total of 1,000 players distributed in 2023 across these two countries. We can't wait to share more stories from media player recipients!

Through the stories we hear from around the world, we are reminded that we are called to share the good news of God with those around us. Even though so many of us in Canada may identify as Christian, how many of us try to relate and connect with our neighbours of a different faith or culture? To address this need, we are producing content tailored for Canadian Christians to learn more about how we can confidently and effectively share the hope of the gospel within our own communities.

CultureCross will give Canadians the opportunity to learn about cultures from a biblical standpoint and humbly understand where people from other cultures are coming from in their understanding of the world. These lessons include teaching videos, warm-up questions, biblical accounts, reflections and personal stories – all of which will serve to help apply the material. In addition, small group discussions will exercise the necessary skills to connect with people of different cultures and faith backgrounds. Production of the videos will begin in the coming months, and we look forward to sharing this resource later this year!

Thank you for reading! We hope you are encouraged by this small glimpse of what is to come in 2023! Stay tuned for more updates on the ministry, and to read past updates, please visit our website!