A Heart for Ministry, a Movement for Men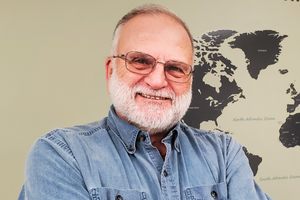 A Heart for Ministry, a Movement for Men
We are excited to introduce Robert Barbeau, who will be spearheading the Every Man a Warrior ministry in Canada! Read more to learn about his heart for the ministry and vision to see it grow across Canada.
Throughout Scripture, we see the ways God weaves stories that unravel the tapestry of his everlasting love for us. We also see threads of these stories in our own lives, such as through the life of Robert Barbeau, a 73-year-old taxi driver living in Newfoundland. Three years ago, Robert found himself on a quest for meaning and direction. Global isolation and disconnect brought Robert to an Every Man a Warrior Bible study group that met virtually due to the pandemic but also because the ministry was based in the United States. God moved through Robert's heart as he found what he was seeking through Every Man a Warrior. Now, in partnership with TWR Canada, God is weaving the strings of Robert's heart to spearhead an Every Man a Warrior movement in Canada!
With over 20 years of experience in men's ministry work, Robert is passionate about equipping men with the knowledge and skills they need to serve the Lord and walk consistently with him. In Robert's new role with us as director of Every Many a Warrior Canada, he will connect with churches all over Canada to initiate Bible study groups, as well as provide training, support and mentorship for those leading these groups. God planted a seed through his life story that he wants to share with other men so they can experience the same power of God's presence and the direction provided through trusting in him. Robert shares, "The quiet time we spend meditating and in prayer before going over that day's lesson…God is felt in that space and that encourages our hearts to speak to each other."
Sometimes this dedicated work to grow in faith through Bible study can feel like a chore. Perhaps you can remember days of memorizing Scripture, wondering why you had to do it. It may have felt like a systematic process with zero application. Through Robert's story, we learn that moments of application often come much later.
Robert experienced the why in memorizing Scripture one day when he was robbed by a passenger at the end of his taxi ride. The man stole cash from Robert's front seat and darted before Robert could even process what was happening. Robert was tested in that moment; he swore at the man as he ran behind a building. Immediately, Robert recognized this is not how God would want him to react to the situation, so he repented. At that moment, James 1:2-4 entered his mind: "Count it all joy, my brothers, when you meet trials of various kinds, for you know that the testing of your faith produces steadfastness. And let steadfastness have its full effect, that you may be perfect and complete, lacking in nothing" (ESV).

He thought, "I'm supposed to feel joyful after getting robbed?"
To this thought, he responded, "Not a chance! I'm not there yet!"
Then, 1 Peter 3:8-9 entered his mind: "Finally, all of you, have unity of mind, sympathy, brotherly love, a tender heart, and a humble mind. Do not repay evil for evil or reviling for reviling, but on the contrary, bless, for to this you were called, that you may obtain a blessing."

Robert was worked up and didn't understand why Scripture was entering his mind like that, but he prayed for this man who robbed him and immediately his resentment dissipated. As tears rolled down his face and he forgave this man, Robert realized God was speaking to him through the memorization and application of his Word and Spirit. "The mental time spent in Scripture comes back to us during a specific time, a particular place," Robert shares. "God's Word spoke to my heart, and his Spirit walked me through the experience of how to bless another when that was the last thing I wanted to do."
As Robert connects with communities and churches across Canada, as well as family, friends and strangers (he is a taxi driver!), we are excited to see how God will use his heart to equip more men into faithful warriors! To support Robert in his new role, donate here!