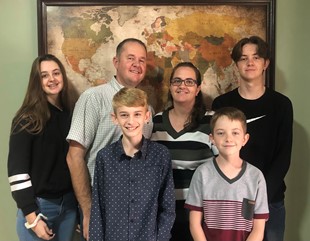 The Penners are serving with RTM (TWR) Bolivia where they assist the team with the Low German ministry.
In March of 2014, Henry and Anna visited Bolivia and spend time with the RTM Bolivia Team. They felt the Lord leading them to serve at RTM for the Low German ministry. The Penners joined TWR in the fall of 2014. Raising support to go to Bolivia seemed like a mountain to cross, Henry said. "We just simply had to completely trust God. I prayed 'If You want us there, You'll have to make this happen.' Humanly it was impossible but God provided. The Penners raised the financial support needed in only four months. The Penner family left for Bolivia in March of 2015 for a four-year term.
After the Penners arrived in Bolivia, Henry received five weeks training on radio and learned the basics before he was on his own. The main office for RTM (Radio Trans Mundial) Bolivia is in the capital of Santa Cruz. An hour outside of that city is the property for the main transmitter and where Low German and Spanish programs are transmitted. There are a few local staff to help them navigate the language and culture. Their main ministry is in Low German, but the language of the land is Spanish.

Both Henry and Anna were raised in Old Order Mennonite communities in Southern Ontario and are familiar with Low German. Their Mennonite background is a great asset to the RTM team. Henry was born in Bolivia in the Mennonite colonies and at the age of 12 his family moved to Canada. In 2012 Henry had the privilege to go back to Bolivia for a two-week mission trip. "God really started stirring in my heart and gave me a burden for the lost Mennonites in Bolivia."
Henry and Anna have five children, two girls and three boys; Bionca, Cassandra, Seth, Joel and Stephen.